ZANE Foundations for Farming Training Programmes
ZANE trains local communities in the high-density areas surrounding Zimbabwe's major cities in sustainable farming methods. The vision is to demonstrate a model of community life which will allow grassroots communities to help to rebuild their broken country from the bottom up in a sustainable way.
Here is a report from the ZANE training co-ordinator: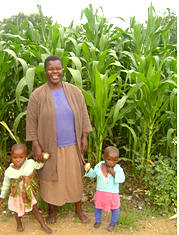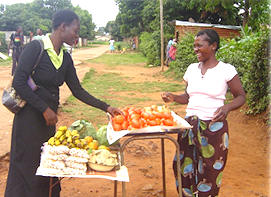 We urged each of the farmers to plant half of their crop using compost and half using fertiliser and then compare the output from these two areas. The purpose of this was to demonstrate to the farmers how effective compost is in the production of maize and build their confidence in this method. Ultimately, we want the farmers to use compost exclusively in a bid to encourage self-sufficiency.

In each of the areas we planned to have a demonstration garden at a very visible site so as to 'advertise' this amazing and beneficial tool that we have. All the farmers were given two weeks to prepare their land before we assess their efforts and given string for demarcating the plots, seed and fertilizer where appropriate. Stringent rules were to be followed and numerous follow ups taken in order to achieve the excellence required for the method to be successful.

A few of the ladies already run their own 'tuck shops"/vegetable stalls in *****, so we discussed and did a small workshop on how to improve and increase sales, make enough profit, etc. The ladies leave as early as 3am to Mbare Market to purchase vegetables to bring back and sell.
To ensure that this strategic work continues, please donate today.