ZANE Poems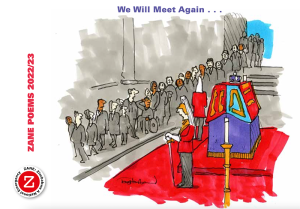 We have published a book of poetry to send out to our donors at Christmas each year for the last few years.
This may seem like a strange thing for a charity to do. However, we have found it to be beneficial for the following reasons:
– It is a way to say "thank you" to our donors for their continuing support
– We make a lot more money for the charity when we do it
– We find that the poetry book, walk blogs and other thought-provoking and/ or entertaining items with a ZANE message tend to hang around in people's houses (by the loo, on the coffee table, next to the spare bed, etc…) for longer than most charity literature. Thus they are often read by friends and family, sparking conversations and spreading the news about ZANE.
If you would like to download a pdf copy of the 2022 Christmas booklet please click here (opens in new window).
Please contact us if you would like us to send a copy (or copies) in the post to you – they make great Christmas presents!
Previous years' poetry booklets are available at these links:.