ZANE Prosthetic Limbs Programme
There are thousands of unexploded land mines all around the borders of Zimbabwe – a sad leftover from the Chimurenga War of the 1970s.
Even today, children are often injured by stepping on, or picking up, these mines while walking to and from school (with heavy rains these mines can migrate hundreds of metres from where they were originally placed).
ZANE has formed a partnership to provide prosthetic limbs for landmine victims.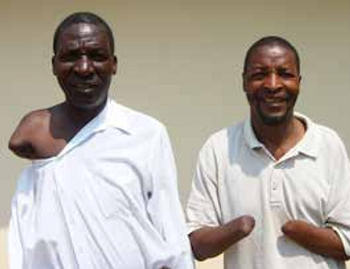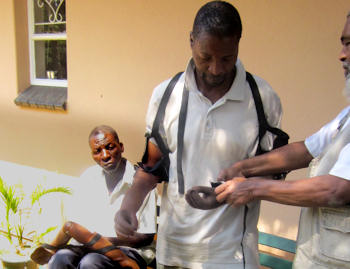 Orbert and Enoch became good friends when they were in hospital together many years ago. The pair had suffered serious injuries while handling anti-personnel mines.

"I can go out with Enoch," said Orbert, "because he understands what I am feeling, and he has his arm to get out money for the bus fare or to help me drink some water. And my wife… well I am lucky she helps with all the things I cannot do since my (prosthetic) hands broke."

After meeting ZANE workers, these two friends are now receiving monthly food packs. We have worked in partnership with a landmine trust to enable Orbert to have new prosthetic hands fitted so that he can manage to eat and drink without relying on friends and family.
To ensure that this strategic work continues, please donate today.