Thomas Yates Benyon O.B.E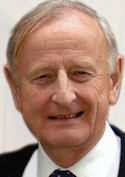 In 2002 Tom Benyon founded ZANE: Zimbabwe A National Emergency. He now works as the charity's Director of Operations.
He is married with four married children and eleven grandchildren.
---
Other notable CV points include:
Educated at Wellington School, RMA Sandhurst. Later, Wycliffe Hall, Oxford: Diploma in Bible and Theology.
Lieutenant, Scots Guard, Sultan of Muscat's Armed Forces
In business, he was the founder chairman of the Association of Lloyd's Members (ALM) and the founder of London Insurance Insider. He was and is a director of many companies.
1989-93 Chairman of the Milton Keynes Health Authority, Director of Buckingham Health Authority.
Councillor Aylesbury Vale District Council:
1974 Contested Harold Wilson's seat in Huyton, then Wood Green for the Conservatives
MP for Abingdon 1979-83 (Con), seat was abolished by boundary changes.
Governor of Winslow Comprehensive School, Abingdon School.
1974-80 Founder of Guidepost Trust (charity for the Rehabilitation of the Mentally ill), Trustee, New Horizon (charity for the homeless in London).
2002-: Founder of ZANE: Zimbabwe A National Emergency