Tom's Trek 2022 – Hard Times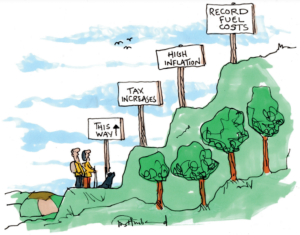 At the end of August, Jane and I, along with our dog Moses, will set off on another sponsored walk for ZANE. Little did we know when we undertook our first walk from London to Edinburgh, that some thirteen years later we would still be walking for ZANE, having clocked over 2,900 miles.
It is the unwavering support and encouragement of you, ZANE's loyal supporters, that drives us to continue walking. That, and because the situation in Zimbabwe is more desperate now than it was when we first started walking thirteen years ago. We simply can't afford not to walk; the hungry and helpless in Zimbabwe rely on ZANE to survive.
Life in Zimbabwe is a devastating cycle of fighting for survival. With elections looming next year, the fight is likely to get harder. So we walk to put food in the cupboards of impoverished pensioners; to provide them with basic medication for hypertension, diabetes, asthma; we walk to show them that they have not been forgotten. We walk to send a message that we understand, it could so easily be us.
Please know that we never take for granted the loyalty and generosity of ZANE supporters; it is your donations that make our work possible. Funds raised are spent cautiously and methodically by our dedicated and steadfast team in Zimbabwe.
Thank you
Tom Benyon OBE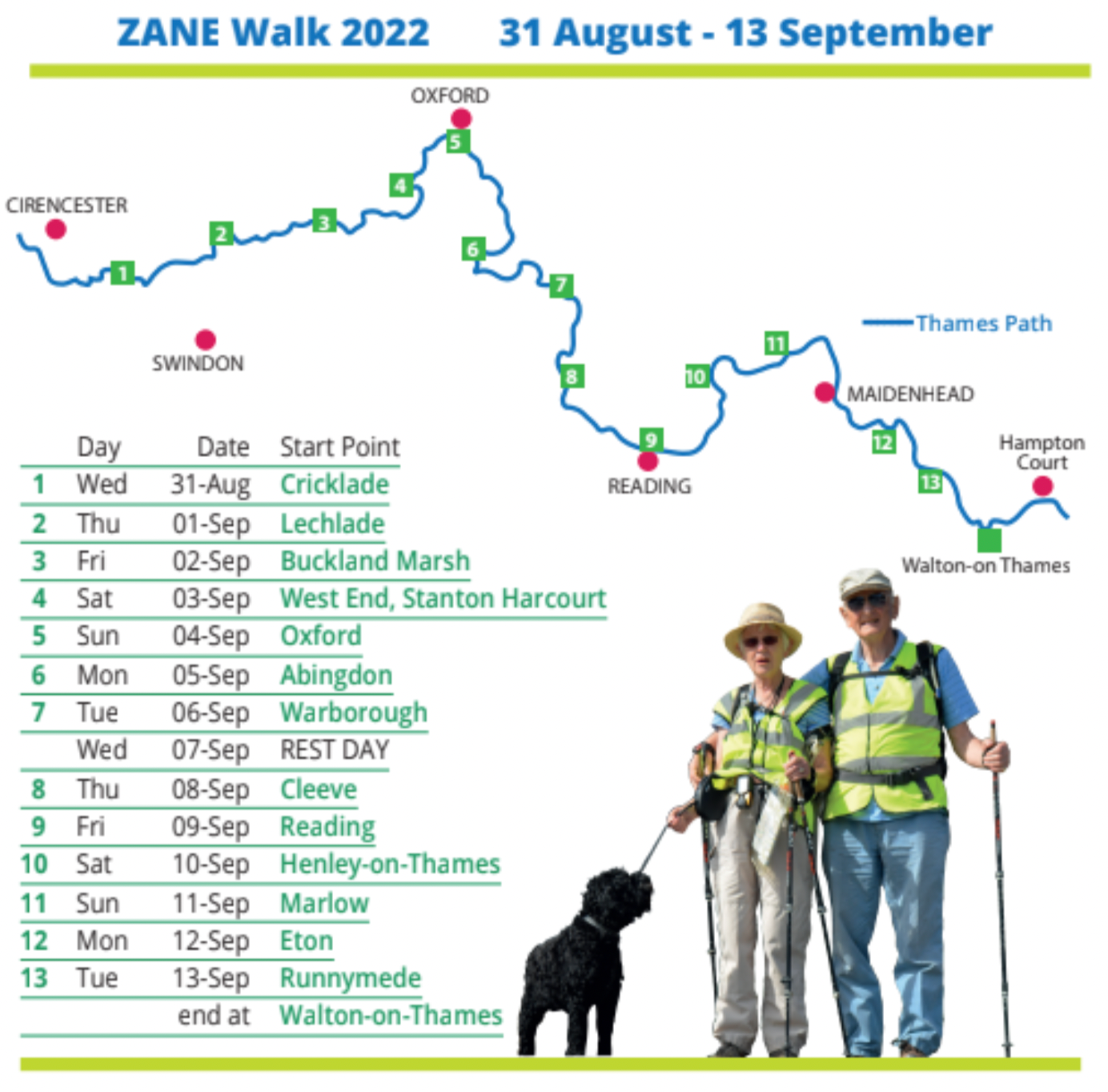 You can download an OS map (pdf and Word versions) of the route for each day from DropBox by clicking here. There are also GPX files for those who want to download them for use in their favourite GPS app.
The table below gives the start points for each day. These are also the end points for the previous days. The final column gives the What3Words references. This is a clever system used by the emergency services to pinpoint locations. To use it, please download the What3Words app or go to www.what3words.com and enter the reference in the search box.
The number to contact the walkers and driver during the walk itself is 01865 693016. During the walk, this number will be set to divert to the driver's mobile.
Day

Date

Start Point
(9am)

distance (km)

distance (m)

day of week

What3Words reference

1

31-Aug

St
Mary's Catholic Church, Cricklade SN6 6DA

15.72

9.75

we

///budgeted.waddle.repeats

2

01-Sep

St
John the Baptist, Inglesham, Lechlade SN6 7RD

15.74

9.76

th

///teaches.activates.easily

3

02-Sep

Tadpole
Bridge, Buckland Marsh SN7 8RF

15.57

9.65

fr

///fury.attitudes.craft

4

03-Sep

The
Ferryman Inn, Bablock Hythe, Witney OX29 5AT

15.44

9.57

sa

///executive.twinkling.botanists

5

04-Sep

Port
Meadow South Parking, Walton Well Road, Oxford OX2 6ED

17.28

10.71

su

///item.inform.regard

6

05-Sep

Abingdon
Bridge, Abingdon OX14 3NN

16.21

10.05

mo

///sting.less.round

7

06-Sep

Jn
of Henley Rd/ Wharf Rd, Shillingford OX10 7DB

15.96

9.90

tu

///ensemble.pine.flocking

8

07-Sep

REST
DAY

0.00

we

9

08-Sep

The
Swan, Streatley RG8 9HR

17.42

10.80

th

///developed.intelligible.joggers

10

09-Sep

Thameside
Promenade Carpark, Reading RG1 8BD

15.76

9.77

fr

///knee.maker.frozen

11

10-Sep

Henley
Bridge, Henley-on-Thames RG9 3HG

14.96

9.28

sa

///publisher.guides.tape

12

11-Sep

Grossmore
Recreation Ground, Marlow SL7 1QF

15.85

9.83

su

///essential.carrots.progress

13

12-Sep

Eton
Dorney West Car Park, Eton Dorney SL4 6QR

17.41

10.79

mo

///thing.paid.cabin

14

13-Sep

Runnymede
Pleasure Ground TW20 0AD

15.73

9.75

tu

///trucks.jazz.aspect

End
at

Walton
Bridge Carpark, Walton Ln, Walton-on-Thames TW17 8LY

///vocal.match.former