ZANE Raffle 2022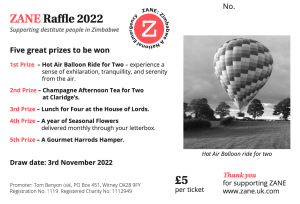 Please get in touch with us if you would like to purchase raffle tickets.
Terms and Conditions
The raffle was drawn by an independent judge on 3rd November 2022 and the winners, who have been notified, are as follows:
1st           Ticket 28241                       Mr A, Hampshire
2nd          Ticket 52038                       Mr L, no address given
3rd           Ticket 48061                       Mr F, Oxfordshire
4th           Ticket 52072                       Mr P, London
5th           Ticket 64924                       Mrs B, London.
Tickets were sold subject to the following TERMS AND CONDITIONS:
Neither ZANE nor Tom Benyon, as the Promoter can in any way be held responsible for any untoward circumstances that arise from taking up the prize offers.
Under no circumstances are prizes transferable and nor can they be sold.
The Promoter reserves the right to withdraw any offer of a prize or substitute another should circumstances so dictate.
All the proceeds from this raffle will go directly to ZANE.
The Raffle is not open to associates of ZANE
The following terms and conditions relating to specific prizes apply:
1st prize: Hot Air Balloon Ride for Two
Prize will be in the form of a voucher redeemable at a choice of UK locations. The locations are all south of York due to unfavourable wind conditions further north.  Flying time is approximately 1 hour and the whole experience 3-4 hours.  Champagne will be served after landing (excluding certain midlands venues).  Return transport to launch site after landing is included.  Voucher valid for 12 months.  Insurance included.  Civil Aviation Authority certified operator.
2nd prize: Champagne Afternoon Tea for Two at Claridge's.
Prize will be in the form of a voucher and valid for 18 months from its start date.
3rd prize:  Lunch for four at the House of Lords.
Hosted by Lord Hastings of Scarisbrick on a date to be mutually agreed.
4th prize: A Year of Seasonal Flowers
Seasonal flowers delivered through the letterbox every 28 days for 12 deliveries.  Must be to a UK address.
5th prize: A Gourmet Harrods Hamper
Containing a selection of sweet and savoury biscuits, coffee and pantry staples, the hamper will be delivered to a UK address within two weeks of the draw.